Digital Signage software
Delger-Tech levert een compleet Digital Signage pakket. Bij het leveren van hardware hoort ook Digital Signage software. In een aantal gevallen wordt de software al meegeleverd met de hardware. Dan is het een kwestie "knop aan" indrukken, inloggen en content invoeren, hier en daar wat instellingen aanpassen, testen en afspelen maar.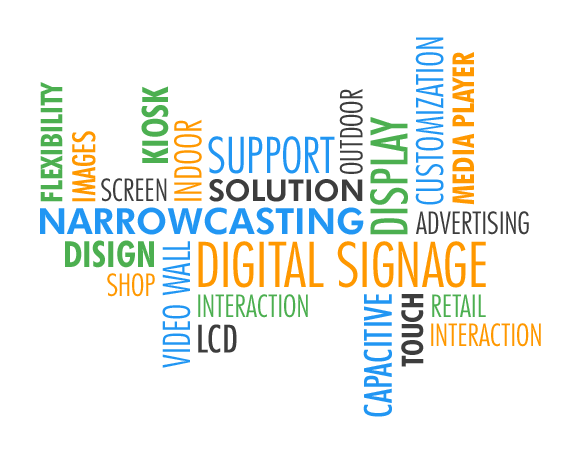 Narrowcasting systeem vanuit elke locatie
De narrowcasting software die wij tegenwoordig gebruiken zit in de cloud. Dit is ook één van de redenen dat narrowcasting steeds populairder wordt. Het grote voordeel van de cloudoplossing is dat u het het narrowcasting systeem vanuit elke locatie kunt benaderen. U hoeft dus zelf geen eigen server aan te schaffen.
Gemakkelijk en veilig
Met uw browser logt u op een beveiligde server en u kunt direct starten met het maken en plannen van content. De mediaspeler is verbonden met de narrowcasting software en maakt via een unieke code contact met de narrowcasting schermen. De mediaspeler krijgt het direct door als er nieuwe content is en haalt deze op de achtergrond binnen. Via de HDMI kabel wordt de content afgespeeld op het aangesloten scherm.
Hardware met of zonder software
Er zijn diverse merken die hun eigen software met de hardware leveren. Denk hierbij aan een digital signage display met SoC of signage player's zoals BrightSign. Meestal is deze software wel gebonden aan de hardware. Mocht de software niet bevallen, dan is er nog geen man overboord, er is altijd wel een alternatief.
Delger-Tech houdt daarom rekening met uw wensen voor nu en in de toekomst. Zo zijn er diverse mogelijkheden om gebruik te maken van een betrouwbare Single Board Computer (mini pc's). Dit kan een Raspberry Pi of NUC computer zijn.
Bent u nieuwsgierig en wilt u meer weten?
Vraag dan een gratis en uniek demonstratie aan. U kunt ons bellen of mailen.