Interactieve narrowcasting schermen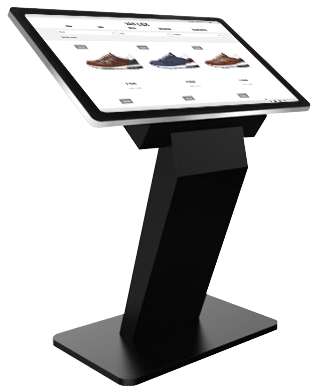 Interactieve narrowcasting schermen zijn sterk aan het toenemen. Zeker sinds de komst van de tablets en smartphones zijn mensen meer en meer gewend geraakt om schermen te bedienen met hun vingers in plaats van met een muis.
Door het toevoegen van touch functionaliteit aan narrowcasting schermen, biedt dat gigantisch veel mogelijkheden.
Het leveren van een totaal pakket
Delger-Tech levert een totaal pakket. Dit kan uit het volgende bestaan:
Template design, content management en narrowcast software

Player hardware in diverse varianten

Schermen van toonaangevende fabrikanten

Configuratie & installatie

Montage op uw locatie
Toegankelijk en interactief
Interactieve narrowcasting is een leuke en moderne manier om kennis laten maken met uw organisatie, winkel of gemeente. De uitgebreide mogelijkheden trekken de aandacht van een divers publiek. Laat uw bezoekers bijvoorbeeld digitaal door uw brochures, video's en foto's bladeren. Maar het is ook mogelijk om een product/dienst te laten uitzoeken, een enquête te laten invullen of u gebruikt interactieve narrowcasting als digitaal wegwijzer… en meer.
Software pakketten
Er zijn diverse software pakketten die de mogelijkheid bieden om interactie aan uw narrowcasting diensten toe te voegen. Dit wil zeggen dat de gebruiker door middel van touch zelf kan navigeren door wat u aanbiedt. Doordat u de applicatie aan uw publiek aanbiedt op een informatiezuil, touch tafel of totem met aantrekkelijke uitstraling trekt u uw bezoekers vanzelf naar u toe. U kunt een hele presentatie interactief maken of een gedeelte van de presentatie. Vanzelfsprekend is het voor deze manier van werken wel noodzakelijk dat het display touch ondersteunt.
Ook na het leveren van een narrowcasting systeem blijft Delger-Tech voor u klaar staan.