Narrowcast display's
Er zijn genoeg display merken die geschikt zijn voor narrowcasting (digital signage). Delger-Tech adviseert om voor A-merken digital signage display's te gaan. Deze display's zijn geschikt om 12/7 of 24/7 aan te staan. Ook softwarematig gezien zijn deze aangepast voor commerciële doeleinden. De afmetingen zijn hetzelfde als een tv die u thuis gebruikt. Zo kunt u kiezen voor een 32″, 43″, 49″, 55″inch of grotere display's. Een voordeel van een digital signage display is, dat de meeste display's geschikt zijn om niet alleen Landschap (horizontaal) maar ook Portret (verticaal) neergezet of opgehangen kunnen worden.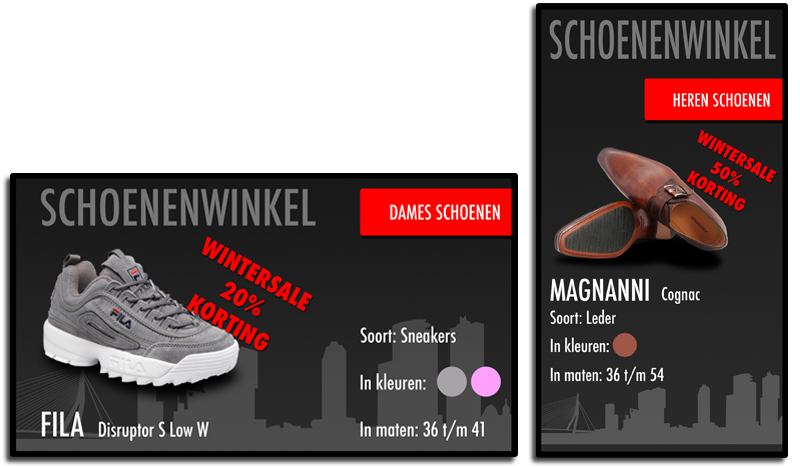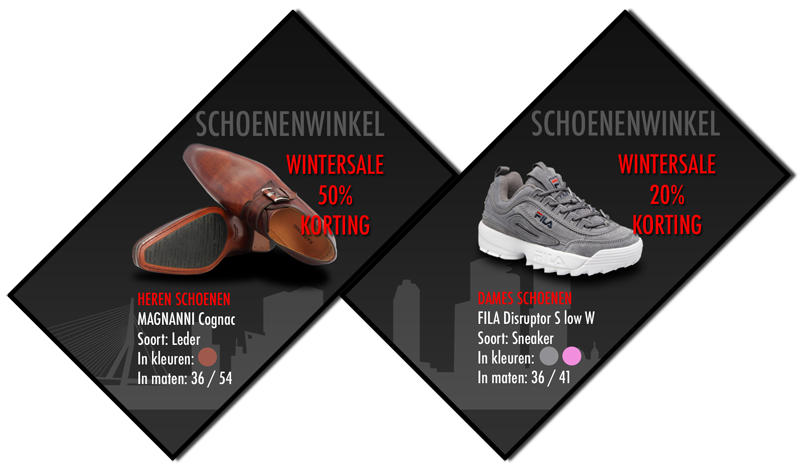 De illustratie hierboven is een voorbeeld van een schoenenwinkel. Het is mogelijk om "out of the box" te denken. Laten we nu 2 schermen naast elkaar zetten en dan 45 graden draaien. Natuurlijk zijn er meerdere opstellingen mogelijk.
Met of zonder SoC (System-on-Chip)
Zo kunt u ook kiezen voor een digital signage display met SoC (System-on-Chip) onboard. SoC is een soort computer die geïntegreerd is (in dit geval een display). Elk merk heeft zo z'n eigen benaming hiervoor. Dit soort computer bevat een processor, werkgeheugen, opslag en software om te editen. Een display met SoC onboard is duurder, maar daar tegenover bespaart u ruimte op externe hardware.
Elk signage display kan via een USB stick iets afspelen. Een gewone USB brengt veel beperkingen met zich mee. Het mooiste is om extern of lokaal uw content aan te passen en af te spelen. Dit kan via ethernet, media-player, SoC, een redelijk up-to-date computer of mini PC. Delger-Tech denkt vooruit en kan een passende oplossing bedenken.
Touch interactiviteit
Het toevoegen van interactiviteit aan schermen is een sterk toenemende trend. Zeker sinds de komst van de tablets en smartphones zijn mensen meer en meer gewend geraakt om schermen te bedienen met hun vingers in plaats van met een muis. Het toevoegen van touch functionaliteit aan interactief narrowcasting schermen biedt gigantische mogelijkheden.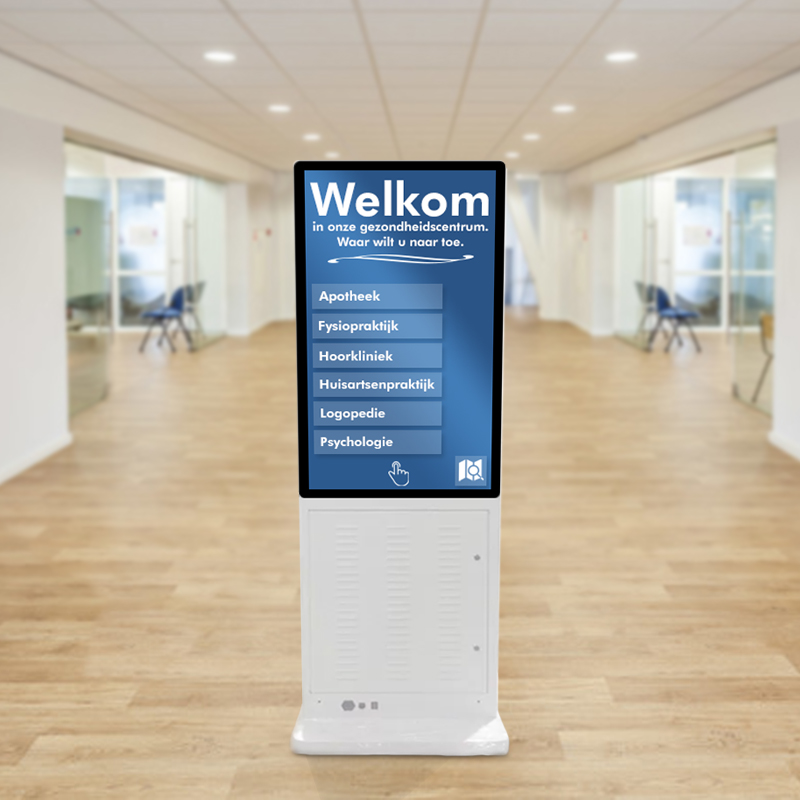 Een voorbeeld is een touchscreen kiosk of totem. Touchscreen kiosk of totem is een touchscreen verwerkt in een staande pilaar, hierdoor heeft uw klant of bezoeker meer personal space om met uw applicatie aan de slag te gaan. Hierdoor is een touchscreen kiosk een ideale vorm voor bijvoorbeeld een communicatie station of een informatie punt voor uw klanten en bezoekers.