Digital Signage op beurzen of tijdens open dagen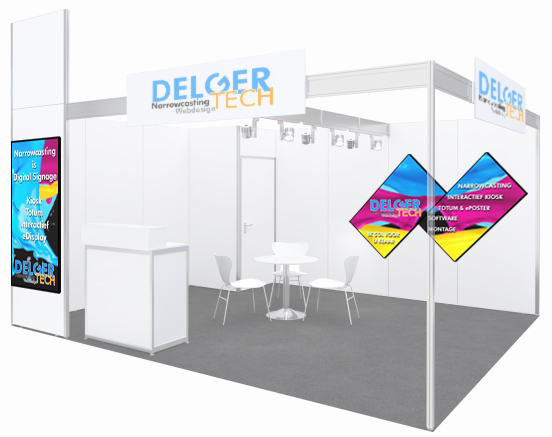 Digital Signage is ideaal voor beurzen en open dagen. Presenteer tijdens de beurs of open dag in of om uw standruimte het laatste nieuws, agendapunten, afbeeldingen of uw producten. Zo zien de bezoekers wat u ze te bieden heeft.
Hoe kan ik Digital Signage gebruiken?
Er zijn verschillende manieren om Digital Signage te gebruiken tijdens beurzen en open dagen. Afhankelijk van hoe uw stand is opgesteld, er is altijd wel een plekje om uw scherm of zelfs een LED-wall op te hangen of neer te zetten. U kunt hierbij denken aan een robuuste en stabiele trolley. Met zo'n trolley bent u altijd flexibel op een beurs of open dag. Misschien is er een mogelijkheid om veilig een scherm op te hangen. Denk hierbij aan een muur of truss (profiel).
U zou ook kunnen denken aan een ePoster of totem. Hoewel deze op een stabiele vloer moeten staan, kunnen ze zeker ingezet worden.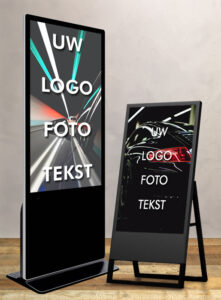 Verder kunt u ook rekening houden met de grootte van uw scherm. Ons advies is; Neem een redelijk groot scherm, zodat u van een afstand opvalt. Maak een keuze of u een scherm neemt met ingebouwde computer (System-on-Chip) of losse randapparatuur.
Ga voorbereid naar een beurs of open dag
Het is fijn als u goed voorbereid naar een beurs kan. Daarom is het goed dat alle content die u gaat gebruiken naar uw zin is. Controleer meerdere malen of alle hardware goed werkt. Neem hier ook goed de tijd voor, zodat tijdens een beurs of open dag u alleen uw spullen op de juiste plek hoeft neer te zetten, en alles met één druk op de knop automatisch draait.