Truss systeem met narrowcasting scherm
Delger-Tech denkt ook verder dan alleen standaard een scherm aan een muur of plafond. Het is zeker ook mogelijk om een truss systeem met narrowcasting scherm te gebruiken.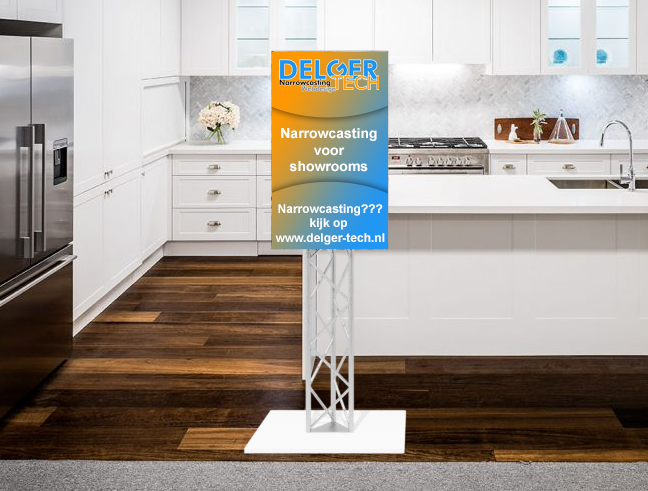 Custom narrowcasting
U hebt een showroom vol met keukens, auto's of kozijnen (noem het maar op). Een model gaat eruit. Een digitale scherm op een TRUSS systeem, kunt u zo neerzetten dat deze producten opvalt. Zet tekst en plaatjes in een slide, geef uw oude en nieuwe prijs aan, geef ook eventuele opties aan. De mogelijkheden met narrowcasting zijn oneindig.
De benaming 'truss' komt eigenlijk uit de architectuur en betekent zoiets als 'driehoek'. De driehoek staat in de techniek bekend als de stevigste manier om verbindingen te maken. Dit is tevens het basisprincipe van de truss-systemen.
Natuurlijk zijn digitale schermen op truss systemen geschikt voor alle soorten showrooms, maar wist u dat deze truss systemen ook voor beurzen en open dagen gebruikt kunnen worden.
Intresse in narrowcasting
Laat Delger-Tech u verbazen wat met narrowcasting allemaal mogelijk is.